Film lovers will be familiar with the name Handmade Films, which an iconic brand in British film history and carries enormous gravitas in the UK, USA and rest of the world.
Founded by Beatle George Harrison, to support The Pythons, the company invariably has up to eight titles in any analysis of the top 100 greatest British films – including the cult classic Withnail and I and the wondrous journey of Time Bandits.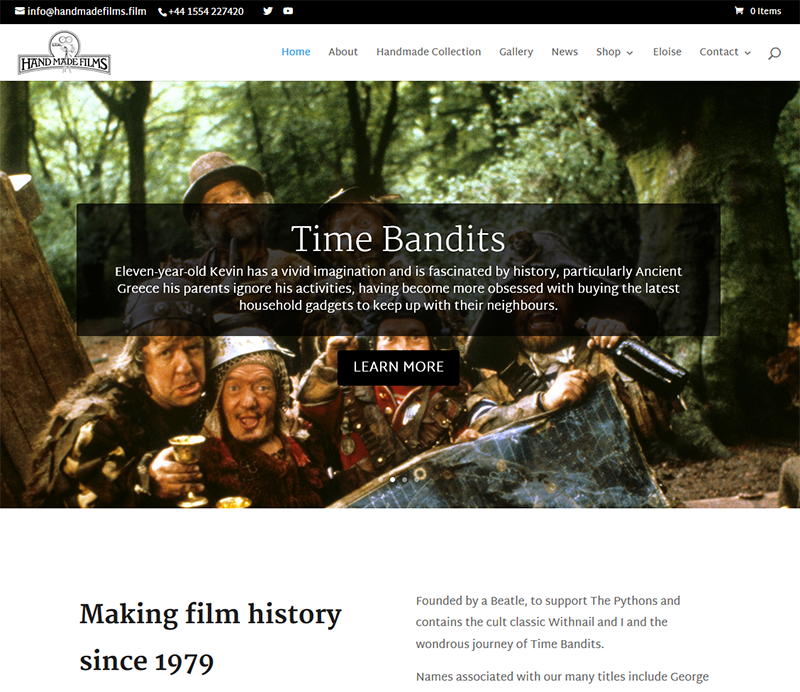 Famous names associated with our Handmade Films titles include George Harrison, Bob Hoskins, Michael Caine, Richard E Grant, Terry Gilliam, Michael Palin, John Cleese, Maggie Smith.
Majestic Media were tasked with designing a new website for Handmade Films, which reflected their status in the British film industry, offered an improved e-commerce experience for fans of its cult classics and an automated email marketing system.
We developed the website using WordPress, utilising the Divi Theme Framework for the design of the site, whilst the world's most customizable WordPress eCommerce platform – WooCommerce – was used to deliver the online shop functionality.
MailChimp was integrated into the website in order to provide an automated email marketing solution, to enable Handmade Films to provide newsletters to fans and customers, along with special offers for their online shop.
A bespoke training day was delivered to the client in order for them to get the most out of the new integrated website, whilst also allowing them to maintain the site in-house in the future.
This is what, Trudi Francis, Operations Director of Handmade Films, said about the project:
Working with the team at Majestic Media was a great experience. It very much felt like a partnership and one that had been in place for a long time. Easy and open communication, in non techy language, including the handover training at the end. All topped off with a website we are very happy with."
You can visit the website at www.handmadefilms.film